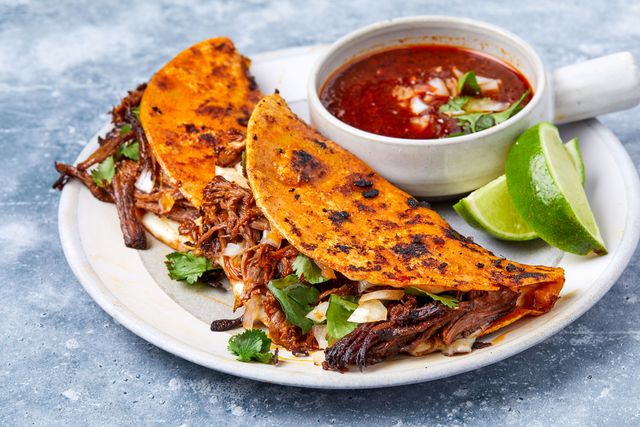 Birria tacos, if you haven't heard of them yet, are a heavenly, Mexican dish that is taking social media and the internet by storm. Birria tacos are made from savory Mexican stew that perfectly combines sweet, savory and sour flavors and is stuffed into a tortilla. The genius did not end there. Once the stew is stuffed into a taco shell, it's battered in that same stew and then fried. Can you say oh my?! Once you take a bite of one of these crunchy tacos, you'll be asking why it took so long to try it. If you're looking to buy a franchise in the restaurant industry, you may want to check out which brands are featuring birria tacos, because while they seemingly took over social media in a day, the birria trend is taco-ing over, and authentic Mexican cuisine as we know it will never be the same.
The birria taco can trace its origins back to "The Conquesta" during the 16th century, which initiated the cultural exchange between Spaniards and native peoples of Mexico that gave birth to new foods and traditions that are still celebrated today. New spices, foods and animals were introduced to Mexico during this time, and while many were appreciated, one that became a nuisance was the goat. This is when, goat meat became a main source of meat and where the first "birriero", or birra maker, can be traced back to. The traditional birra was made of goat meat but is more popularly made with beef, veal, lamb and pork.
Now you may be wondering where you can find this fried, delicious taco. you can find the best birria tacos at tommy loves tacos.