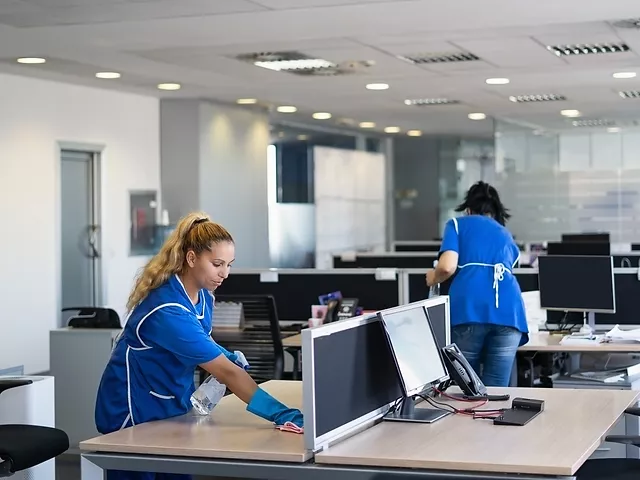 For CEOs and company owners dealing with the hustle and bustle of employee and office management, general office and commercial floor cleaning may not rank very high on the list of essential priorities on a day-to-day basis.
However, general office cleaning and commercial floor cleaning is vitally important for any business- whether the company is frequented by customers or just a few employees during the course of a day.
A clean office is a reflection of the company as a whole; while a dirty or slippery floor can serve as a costly liability should someone get hurt on the property. Either way, commercial office cleaning is a staple and cornerstone for any successful business – especially in the customer service sector.
A Clean Office: A Reflection of the Company At Large
First, office and commercial cleaning is a reflection of the corporate operations from those looking from the "outside-in". It reflects a company's attention to detail, its concern with appearances, and general cleanliness.
Strict attention to such detail is important- especially in the hotel or restaurant industry, where a dirty office space during an initial consultation or contract signing may cause the potential customer to look elsewhere for their services. The simple neglect of office cleanliness may lead a customer to believe that a particular space reflects the entire attitude of the corporation.
Dirty Floors: An Unnecessary Liability
Similarly, the presence of a dirty office or unkempt floors will not only cause a customer to take their business elsewhere, but it can also be an unnecessary lawsuit waiting to happen. If a company's floors are permitted to remain dirty, slippery, and unclean, the condition could become a major liability should an employee or visitor slip and fall on the property.
The property owner can be held liable for unmopped spills, stains, or slippery patches if they were caused by basic neglect of the office space. The company will then be faced with the costly and time-consuming legal process, as an insurance claim or legal settlement will be paid out to cover the employee or customer's injuries.
A Simple Answer: Hire an Office and Commercial Floor Cleaning Contractor
For the relatively small cost of office and commercial cleaning (as opposed to an insurance claim or customer that takes their business elsewhere because of the filth), a company can have a clean space and shining floors by contracting with a commercial cleaning company.
The company can be contracted on a daily or weekly basis to perform stand-alone floor cleaning to complete office maintenance. Similarly, providers can be found in a variety of ways, including a basic internet search, Craiglist postings, or a word-of-mouth recommendation from someone you trust.
Be sure when calling for estimates that you have information regarding the space handy, including figures on approximate square footage, the number of restrooms, the presence of carpets vs. flooring and private office space. This information will ensure an accurate estimate for commercial office cleaning