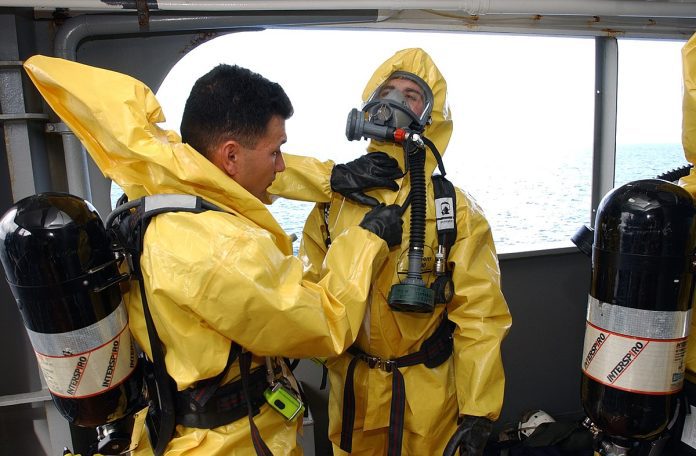 A gas mask is an excellent piece of gear to have on hand in the event of an emergency or disaster. It will protect your face and respiratory system from a variety of toxic substances, including airborne chemicals and biological warfare agents. However, you should be aware of the many things that can go wrong with a gas mask—from incorrect size and fit to broken filters, to not storing your mask properly—that will reduce its effectiveness. Whether you're looking to buy a basic military surplus gas mask or an upgraded tactical option, there are some things you should keep in mind before making a purchase.
A mask works by encapsulating the wearer's face with an elastic polymer to create a seal. This can be limited to the mouth and nose or may encompass the entire face, depending on the design. A filter is attached to the mask near the mouth, allowing only clean air through. The filter is often composed of a mix of substrates for absorption and reactive chemical compounds that can destroy harmful chemicals in the air.
Some masks have an additional layer that covers the eyes to provide protection from harmful particles as well. Some also include a canister for water to provide hydration during long periods of use.
The most common mistake people make when buying a gas mask is choosing one that's too small for them. This can result in not being able to breathe comfortably, which can be dangerous. When selecting a gas mask, it's important to consider the average size of your head and the sizes of your family members if applicable.
You should also consider how you plan to use your gas mask. Some models can be used to combat a wide range of chemicals and particles, while others are designed for specific threats, such as a particular disease or toxic industrial chemicals. This is important because different environments require a different type of filter or a specific reactive chemical compound.
A gas mask is useless without a proper filter or canister, so you'll want to be sure that you have replacements on hand. It's also a good idea to practice changing the filter with your mask on to ensure that you can do it quickly and effectively in an actual emergency.
Not storing your gas mask properly
A gas mask that's not stored correctly will degrade much faster than it would otherwise. It's best to store it in a cool, dry place and avoid temperature extremes. You'll also want to be sure to inspect it regularly and replace it with a new filter when needed.
While a gas mask can be an expensive investment, it's one that's worth making if you live in an area where natural disasters are common or you're preparing for the possibility of a CBRN or viral pandemic emergency. Be sure to choose a model that will suit your needs and budget, and don't forget to stock up on replacement filters and canisters as well!gas masks