The number of apps downloaded by most Smartphone users makes it impossible to update each one manually. Fortunately, all the major app platforms now provide automatic app updates by default. This means that your apps will always have the latest features and bug-fixes available, without you having to do anything.
These days, apps roll out bug fixes faster than you can say, "update". Therefore, keeping them on automatic makes sense. You may want to rethink your automatic update policy because of some major disadvantages.
One would be inadvertently spending huge amounts of money as every update would be downloaded over your 3G connection if automatic updates are enabled.
Additionally, constantly transferring data and updating software keeps your phone running, and drains your battery much faster than you expected – turning off automatic updates could give you that little extra time you always need.
How to Turn Off Automatic App Updates on Android
Android provides a fair amount of freedom when it comes to updates. All updates can be turned off, or you can limit them to downloads via Wi-Fi. If you only use specific apps frequently, you can also enable updates for only those apps, so for example, you don't want to waste bandwidth downloading updates for apps that are only used every three months.
Following these steps will enable or disable updates:
Go to Google Play.
Tap the hamburger icon (three horizontal lines) in the top-left corner.
Click Settings.
Choose Automatic updates.
Select Do not auto-update apps to turn off automatic updates.
Choose Auto-update apps over Wi-Fi only instead. You'll need to be connected to a WiFi network to do this.
Additionally, Android lets you choose which apps to update automatically.
Go to the Google Play app's app page to enable auto-update for any app.
Tap the three vertical dots in the top right corner.
Select Automatic update.
In this way, you can disable automatic updates and still keep selected apps updated.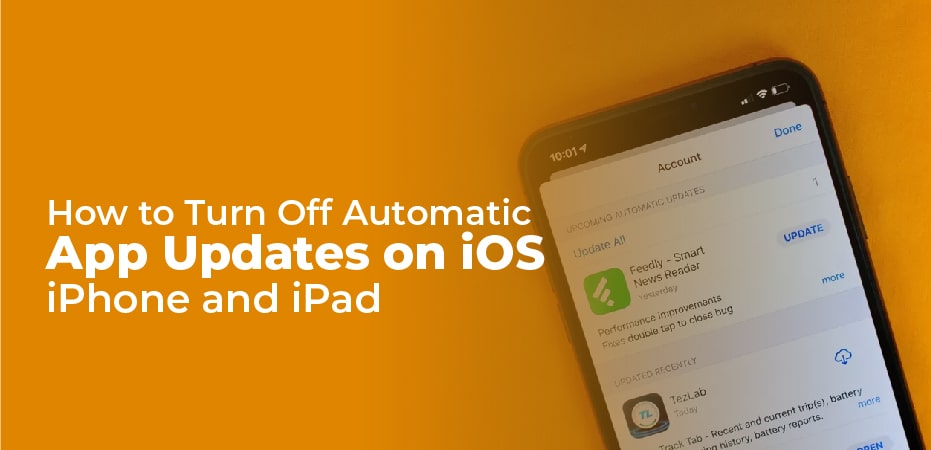 How to Turn Off Automatic App Updates on iOS – iPhone and iPad
You can choose whether to have automatic updates on or off in iOS, and if on, you can decide whether to use your mobile connection to download apps. iOS does not allow you to disable automatic app updates for individual apps – either all apps will update or none will. This can be accomplished by following these steps:
Click Settings > iTunes & App Store.
The green switch next to Updates can be turned off to disable all automatic app updates.
Turn updates on and turn off Use Mobile Data instead if you want apps to update automatically only when connected to a Wi-Fi network.
How to Turn Off Automatic App Updates on Windows Phone 8.1
Windows Phone 8.1 also allows you to choose whether all apps will be updated, or only those that can be updated over Wi-Fi, rather than cellular data.
Go to the Store.
Select the three horizontal dots icon.
Select Settings.
To turn off Automatically update apps, click the switch next to it.
In order to avoid unnecessary cellular data charges, you can choose to only get updates over Wi-Fi.
How to Turn Off Automatic App Updates on Windows 8.1
Windows 8.1 app updates are very similar to Windows Phone 8.1 app updates. If you have a Windows 8.1 computer, you can disable automatic app updates by following these steps.
Click the Store icon.
To reveal the Charms Bar, swipe from the right edge of the screen (or press Windows Key + C).
Select Settings.
Select App Updates.
Change Yes to No by tapping the button below Automatically update my apps.