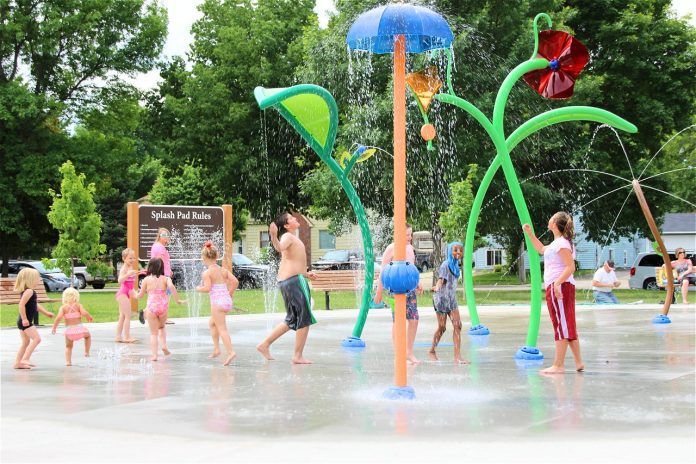 Splash pads (also known as spray parks, splash zones, and water playgrounds) expand summertime cooling options without the exorbitant costs of traditional swimming pools. They can be found in municipal parks and urban areas and range from a simple ground surface with nozzles to more elaborate above-ground add-ons that shower, mist, dump, and shoot water.
Preparation
A splash pad is a fun alternative to a traditional swimming pool. Featuring a non-slip surface or safety deck with various nozzles and features that shower, rain, mist and shoot streams of water, splash pads become inspiring, inviting places for recreational water play for kids of all ages.
Unlike a regular playground, which only requires sand or mulch as a non-slip surface, a splash pad deck can feature any number of materials including pavers, rubber and textured concrete. The pad should be backfilled to a minimum of 10 inches below the desired surface level for a concrete pad or 8 inches below for a paver splash pad. The area should also be sloped for good drainage.
A typical splash pad operates on a recirculating system similar to that of a swimming pool and requires the installation of pumps, filters and a water storage tank. This allows for varying pressures, flows and fountain effects that are controlled by standard irrigation control valves just like those that operate lawn sprinklers.
Installation
Splash pads are fun for kids of all ages and also help park visitors interact more with each other. They are a great alternative to traditional pools and also have cost benefits for parks.
Once the splash pad is installed, it should be filled with a non-slip, textured surface that is either brushed concrete or resilient synthetic surfacing. The pads should also be set up to be easily cleaned and able to accommodate a water recirculation system.
It's important to hire an experienced aquatic project engineer for the construction of your community splash pad. This will help ensure that the project stays on schedule and is completed according to the planned design. Additionally, it will help to handle communications between the project manager, designers and landscape architects. It's recommended that you also chat with your local health department to understand the specialized health code regulations for these unique facilities. This will save you time when applying for permits and allow for a faster approval process.
Maintenance
Splash pads are also known as spray parks, splash zones and water playgrounds. They take on many forms – from commercial spray parks and light commercial splash zones to backyard waterparks and striking patio water features.
Keeping up with routine maintenance is a great way to avoid problems like algae growth, which can be difficult to get rid of and dangerous for children. In addition, regular cleaning and agitating of the surface can prevent rusting and pitting.
In addition, it is important to have backflow preventers tested regularly to ensure there is no contamination from sewage or untreated potable water entering the splash pad system. This can prevent the brain-eating amoeba, Naegleria fowleri, from contaminating your splash pad. Choosing a recirculating system can reduce this risk as well. For these reasons and more, it is vital to consult an experienced aquatic project engineer during the planning and construction phases of your splash pad construction. This can save you both time and money.
Repairs
As with any facility, splash pads require periodic repairs and renovations. This may include a new water filter or filtration system to meet evolving health and safety standards or a resurfacing of the rubber pad surface.
Unlike traditional public fountains, splash pads use freshwater or recycled, treated water that typically meets swimming pool water quality and sanitation requirements. The water is filtered and disinfected with germ-killing chemicals prior to spraying.
The sprayed water can also be used for irrigation of adjacent park land and other uses, drastically reducing the need to drain freshwater from our limited resources. Motion-activated sensors or hand-activated controls turn the features on and off, ensuring only the water needed is used.
Like other playground equipment, splash pads will need to be winterized before not being used for the season. This process typically includes removing all nozzles and capping them shut; turning off the auto-fill to the holding tank; blowing out lines and powering down electronic equipment. The equipment manufacturer will have more specific instructions to follow.